This is a guest post by Amjad Khan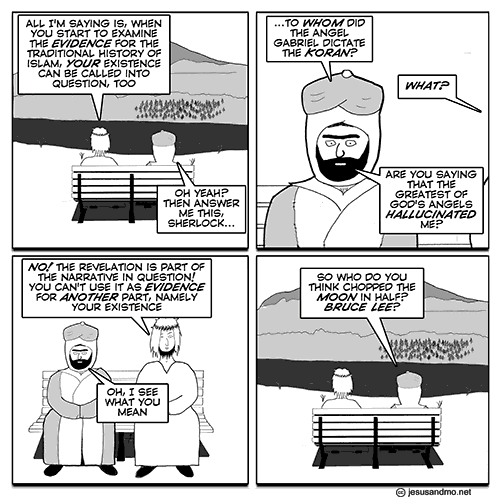 The Islamic Education and Research Academy (IERA), which is in fact a front for Salafists and Islamists to promote bigotry dressed as dogma, has also produced a response to the now infamous Tom Holland documentary 'Islam –The Untold Story'. It is, however, poorly constructed, highly personal and completely misses the point.
There is something quite depressing about the way Muslim activists type respond to anything Islam related that isn't a glowing tribute to the wonder and beauty of it. Objectivity and rational reasoning based on standard methodology used by historians just isn't welcome and those who try will be accused of setting out to fabricate lies and deliberately deceive.
It's almost as if the believing mind simply does not allow for the possibility for there being other interpretations and hence anyone who produces one must be of unsound character and mind. Progress is such an environment is both difficult and perilous.
IERA begin by seeking to discredit a claim that they attribute to Tom Holland, namely
"there is no historical evidence in the seventh century on the origins of Islam".
They then go on to produce a list of early non-Muslim writers who wrote about Muhammad. The problem with this line of argument is that Tom Holland very clearly did not make that point. The argument he made was that early Muslims did not use the name Muhammad, did not mention Islam or anything resembling it nor referred to themselves as Muslims. This point is significant because it supports Holland's argument that Islam was developed after the expansion of the Arab Empire rather than being the spark for it.
IERA then complain about Holland's rejection of the Muslim oral tradition. Oral traditions are useful to historians but they can't be taken too seriously either since the room for error is too big, regardless of how rigorous early Muslim writers were. The fact remains that ahadith (Prophetic traditions) were not recorded until about 200 years after Muhammad's death and the very first Sirah (biography) was written over 100 years after his death. In that time myths, fabrications and memes could have easily taken root amongst Muslims and there is strong evidence to suggest they did. They can't be treated as historical data and certainly can't take precedence over data that does date from the time of the events it records.
This is a really problematic argument from a Muslim perspective since almost all we know about Islam has come to us via oral tradition, hence a rejection of oral tradition is a rejection of the Islamic historical narrative in its entirety. Thus Islam in its entirety is built on very weak and questionable foundations.
IERA then seek to address two other points, the story of Lot and the non-mention of Mecca. On the second point, they have completely misunderstood Holland. He does not contend that the Quran does not mention Mecca, indeed it does just the once and Holland acknowledges that. However, the fact that it is only mentioned the once in a rather vague manner does strengthen rather than weaken Holland's argument. If indeed, Islam had emerged Mecca you would expect it to be given a more central role in the holy book.
With regards to the story of Lot, the Quran says
"And indeed, Lot was among the messengers. [So mention] when We saved  him and his family, all, except his wife among those who remained [with the evildoers]. Then We destroyed the others. And indeed, you pass by them in  the morning. And at night. Then will you not use reason?"
Holland contends that the above passage points to the fact that the audience of the Quran was more likely people based close to the ruins of Sodom and Gomarrah, which is in present day Israel, since they are supposed to pass the ruins "in the morning and at night". IERA try to counter this by claiming that the Meccans were travellers and merchants and hence would have also passed the ruins in their trade journeys.
This is an extremely weak argument since only a small minority of Meccan residents were actually people who regularly travelled as far present day Israel which is over 1000 kilometers from Mecca for trade purposes even if they did take that specific route which passes the named ruins. Also, if that is what the Quran meant then the passage is very poorly worded since it sounds as though it is referring to a place very close by that people pass on a daily basis.
Holland further contends that the Quran appears to be addressing an agrarian olive growing community that was well versed in Biblical and Talmudic traditions. Mecca and its surrounding areas are very arid, olives don't grow there and Meccans, according to Islamic traditions, were largely pagan and hence unlikely to be immersed in the stories of the Old and New Testament that the Quran seems primarily occupied with.
After reminding us about the miraculous and inimitable nature of the Quran, which has been challenged many times, IERA conclude their masterpiece by informing us that Holland was deviously selective with his choice of scholars. It is true that Holland could have found scholars that disagreed with him since there is much disagreement in this area but that is precisely the point. Holland is not claiming to know the definitive narrative of early Islam, he is merely pointing to loopholes in the established tradition and presenting the other side of the argument. He is seeking historical data and then seeking a narrative which best fits the data without making any presumptions, that is what good historians do.
Of course, Holland could be wrong and the orthodox Islamic view could be right but what disturbs me is the way in which IERA seek to shut down the debate by second guessing Hollands motives and mocking his efforts without consideration for the real arguments.
The problem with many activist Salafist and Islamist types is that anything and everything is perceived as an attack on Islam by the enemies of the faith. This is a paranoid mentality, that their preachers encourage, and it produces people that are intellectually retarded and unable to comprehend an opposing point of view. The absolutist and supremacist nature of their conception of Islam leaves very little room for errors and contradictions, hence any that are found must be explaining away and the finders must be humiliated and discouraged from such endeavours.
It's a sad state of affairs and a look around the Muslim world illustrates where that kind of approach gets you.